Abgesagt
Bisheriges Datum:
hr-Sinfoniekonzert | sounds of finland: Wide Landscapes
Alte Oper | Großer Saal
Opernplatz 1
60313
Frankfurt am Main
Event organiser:
Hessischer Rundfunk, Bertramstr. 8, 60320 Frankfurt am Main, Deutschland
Die Veranstaltung ist abgesagt und wird rückabgewickelt.
Event info
sounds of finland – Wide Landscapes

Artist in Residence

Pekka Kuusisto | Violine
Jukka-Pekka Saraste | Dirigent

Lotta Wennäkoski | Flounce
Magnus Lindberg | 1. Violinkonzert
Jean Sibelius | 5. Sinfonie

Nachklang: mit Pekka Kuusisto


Um die ganz eigenen, oft macht- und geheimnisvollen Klänge Finnlands dreht sich an diesem Festival-Abend alles. Mit Lotta Wennäkoskis »Flounce« wurden 2017 die »Last Night of the Proms« in London eröffnet. »Artist in Residence« Pekka Kuusisto spielt das 1. Violinkonzert von Magnus Lindberg, eine effektvolle Tour de Force, die auch einen Blick auf finnische Volksmusik wirft – und der die Balance zwischen Substanz und Stil, wie Poesie und Virtuosität gelingt. Schließlich die 5. Sinfonie jenes Komponisten, »der uns Finnen vorgemacht hat, was Erfolg ist«, so der Sibelius-Experte Jukka-Pekka Saraste.

___________

Everything on this festival evening revolves around the very idiosyncratic, often powerful and mysterious sounds of Finland. »Flounce« by Lotta Wennäkoski was the opening music at »The Last Night of the Proms« in London in 2017. »Artist in Residence« Pekka Kuusisto plays the 1st Violin Concerto by Magnus Lindberg, an effective tour de force that also takes some inspiration from Finnish folk music – and which succeeds in managing the balance between substance and style, between poetry and virtuosity. And finally, the 5th Symphony of the composer who, according to Sibelius expert Jukka-Pekka Saraste, »showed us Finns what success means«.
Location
Alte Oper
Opernplatz 1
60313 Frankfurt am Main
Germany
Plan route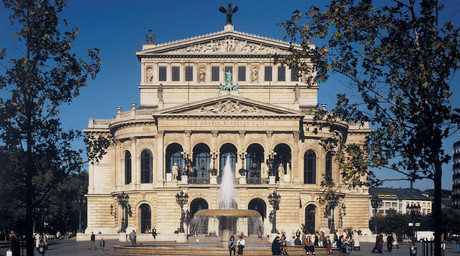 Mitten in der Frankfurter Innenstadt steht die "Alte Oper Frankfurt". Sie lockt mit Konzerten und Veranstaltungen der Spitzenklasse. Künstler wie Martha Argerich, Alfred Brendel oder Hélène Grimaud, sowie die "Berliner Philharmoniker" sind hier schon aufgetreten.

Seit 1880 bietet die "Alte Oper Frankfurt" Raum für Musik und Feste. Daran konnten auch "Dynamit-Rudi´s" Pläne, das Gebäude in die Luft zu sprengen, nichts ändern. Und seit der Eröffnung zieht die Oper prominente Künstler und Gäste an. Kaiser Wilhelm der 1. kam zur Eröffnung zu Besuch und Carl Orffs "Carmina Burana" wurde hier 1937 uraufgeführt. Und so hat sich zwischen den Bürotürmen ein wichtiges Stück Stadtgeschichte gehalten. Dem Schriftzug über dem Eingang "Dem Wahren, Schönen, Guten" entsprechend, ist die "Alte Oper Frankfurt" ein Garant für ein tolles Programm und unvergessliche Konzertabende. Der große Saal bietet mit 2500 Sitzplätzen genug Platz für große Konzerte, der "Mozartsaal" schafft mit 700 Plätzen eine intimere Atmosphäre.

Die "Alte Oper Frankfurt" ist eine feste Kulturinstitution. Sie genießt weit über das Rhein-Main-Gebiet einen sehr guten Ruf. Hier wird Kunst perfektioniert.